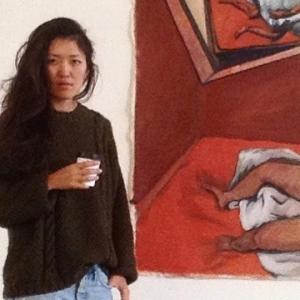 mihyun maria kim
I paint figures, using the face and body as the place that holds the traces of human experience. Through research and exploration of transgenerational trauma/resilience (especially experienced through war, divorce, immigration, poverty, displacement) and how it affects individuals in present situations. Personally, I have always been heavily informed by histories, individual and collective experiences, distorted and manipulated memories, altered perceptions of the world through the transferring of beliefs, values and experiences of others, and notions of truth and time. These deeply rooted interests were born from trying to understand a Korean word 'han' which describes "shared suffering", or someone who carries grief or a longing, used after the Korean divide.
Mihyun Maria Kim is a Korean-Canadian painter presently working between Toronto (CA) and Leipzig (DE). Upon her return to Canada in late 2019, she has been a resident artist with the Mississauga Living Arts Centre (2019-2020), and now is with AKIN X Collision Gallery while pursuing further studies at OCADU. During her three years in the EU, she participated and worked for artist residencies in Barcelona, Paris, Seville and Leipzig, and co-founded MODS collective. She has shown her works in mentioned cities above including Venice, and various murals exist in Mongolia, Kenya, Brazil, Korea and Canada.
---
Beverage of choice
Black Coffee. Red Wine.
When did you start making art, and why?
As a child, moving back-and-forth from the East to the West, constantly catching up to learn the language, I used to draw or paint to create my own reflections of the world. Reading expressions of the face and body language became habitual and an instinctive survival tactic, as I needed to understand if I was in good company, and so, human faces, the body and language interpretation were always part of my autoanalytical expressions.
Favourite medium
Through interactions with those around me, interviews, readings and personal photographs, I create responsive work in performative audio and video, site-specific installations and writings. In recent years, I've been heavily painting in oils to slow down the process of expressing memories of people and spaces. Unlike previous paintings in acrylics and watercolour, I find oil painting in forming layers, texture and depth satisfies the energy I bring to it.
What do you listen to when you work?
Various. Influenced by where I am and my mood, as I tend to try and immerse myself in the locale and culture through music, yet those nights in the studio mean going back to Nina Simone, Sibylle Baier, Lhasa De Sela, Diego El Cigala, Khatia Buniatishvili, and Avro Pärt.
Best season of the year in Toronto
Summer into Fall. The setting sun on the lakes, while on a canoe or camping with the fire going, into months of fall colours and layers, are some of the things I love most about Toronto.
Your favourite spot in Toronto right now
Wherever my family friends can be with me in stories and laughter, with good food and years of knowing.
Select Past Exhibitions
2020
2020
2019
2019
2019
2019
2019
2018
2018
2018
2018
2018
2017
2015
2020
2020
Residencies
2020
2020
2020
2020
2018
2018
2017
2017
2015
What do you mean, "try"?
Try-before-you-buy with a 3 month rental. 100% of your rental payments go towards the purchase (interest free). Message the artist directly, and start the conversation.
---
Art made (truly) affordable
We make it easy for you to try art with smart payment plans and try-before-you-buy models.
See How It Works
---
You're covered.
Artwork protection is included on all art rentals up to $10K. Our Customer Care team is always here to help.
Contact Us
---
Unlock Trade Access
For industries including interior design, film/TV production, & real estate staging: rent original pieces that fit with your project vision, budget and timeline.
Apply for Trade Access
---
1% from every transaction goes towards a Canadian arts nonprofit.